art places
to go
(when bored)
6 inexpensive/free art places to go (when bored)
Find out what you can do to help you plan for the days ahead!
Our first gallery is likely not a stranger to the average Singaporean: the country's very own National Gallery. It houses the world's most extensive public collection of Singaporean and Southeast Asian modern art. Located at 1st St. Andrew's Road, the National Gallery of Singapore (NGS) is open from 10am to 7pm daily – yes, even on weekends! NGS aims to be a leading visual arts institution that creates various dialogues between the art of Singapore, Southeast Asia and the world. The gallery has also collaborated with several international museums such as the National Museum of Modern Art and Tate Britain – just to name a few..
Admission Fee: Do note that there are only free admissions for Singaporeans, PRs, and children who are 6 and under.
Location: 1 St Andrew's Rd, Singapore 178957
Perhaps one of the quirkiest and most unique museums in Singapore, the Singapore Philatelic Museum (SPM) is a custodian and curator of Singapore's treasure of philatelic materials. "Philatelic" stems from the noun "philately", which refers to the study of postage stamps and postal history, or anything to do with hobbies of a similar nature. The philatelic museum showcases different collections of stamps and archival philatelic material of Singapore, from way back in the 1830s to the present day. SPM is definitely an excellent place to start for natural lovers of stamps and postal archives! It houses the world's first-ever stamp, and serves as a window to the world, delving deep into historical dealings and providing insight for how people in the past used to travel or communicate. The museum opens from 10am to 7pm daily and is located at 23-B Coleman Street. .
Admission Fee: Do note that there is an admission fee of $6 per adult and $4 per child. However, we promise you this is a bang for your buck!
Location: Coleman St, 23-B, Singapore 179807
Located at 93 Stamford Road, the National Museum of Singapore is the oldest in Singapore. Despite its agely state, the museum has its way of keeping up with modern times: it has successfully harnessed the use of advanced technology to showcase Singapore's history and development throughout hundreds of years. The National Museum will provide a refreshing, profoundly engaging perspective of the Singapore story. It takes visitors on an immersive voyage through its exceptional advanced technological storytelling. The museum also organises a host of exciting activities and events yearly, bringing in events like the Night Festival, colourful art installations, film screenings, and so much more. The museum opens from 10am to 7pm daily..
Admission Fee: Do note that there are only free admissions for Singaporeans, PRs and children who are 6 and under.
Location:  93 Stamford Rd, Singapore 178897
An artistically developed engineering genius of its own kind, the Esplanade has racked up a reputation to be one of the busiest art centres in the world! Contrary to its facade's appearance, a considerable aim of our beloved "durian" is to make the arts accessible for everyone, with its dedicated staff arranging various art-related courses to help bond the community every so often. It is also a not-for-profit organisation which strives to entertain, engage and educate through the arts. Esplanade offers many free programmes ranging from the visual arts, dance, music, and even film! The staff put together new programmes daily to cater to the public's best interest. It is never their aim to have anyone feeling left out. Wherever your interest in art lies, the Esplanade will most definitely have a store programme.
Admission Fee: Free
Location:  93 Stamford Rd, Singapore 1788971 Esplanade Dr, Singapore 038981
Public art can take on various forms: from wall murals, to sculptures, and even performative artworks. The premise of public artwork takes on a nature where the artwork is made widely visible to all; and most importantly, free access is granted to all members of the public.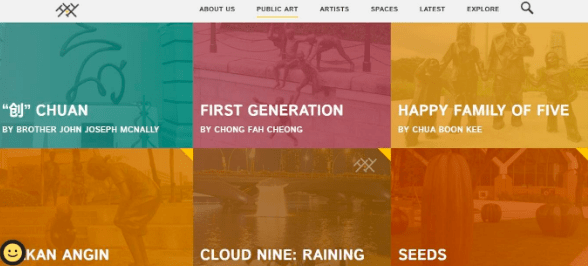 Singapore is not without its fair share of public art artists. Delve into the world of public art in Singapore with the Public Art Trust, and discover the various public artworks and artists who contributed to the public art scene, here, in Singapore.
To the average national, public art probably incites the reaction of "what's that?" or, "Singapore has that?" Yes, we do! If you have never heard of such a thing, or much less even know where to begin. Don't fret: our public art trails will take you on a journey of exploration to view each of these art pieces carefully crafted for a smooth walking experience. Explore public art in Singapore with these walking trails. Select a trail that interests you and go on an adventure with your friends/family to uncover sights that you have never seen before!