Learn more about how you can care for yourself with art! 
Are you feeling the blues from Covid-19? Do you have no idea what to do stuck at home and feel your soul slowly withering away? All it takes is 45 minutes and minimal supplies (for most) to kill two birds with one stone. You can both kill time and take care of yourself by indulging in the arts from the comforts of your home. I guarantee you feel more relaxed and motivated. So set aside some alone time, create your safe space, let yourself go and enjoy the process.
Bullet journaling is the perfect mix between a planner, diary and to-do list. The bare necessities are a notebook and a pen. Of course, you can be as extravagant as you want. So go all out with various stationary supplies and knock yourself out! Take some time every night to self-reflect and update your bullet journal. It may be tedious starting off, but it is actually straightforward. If you do not know how to start, a personal favourite is AmandaRachLee's videos. She has tutorials on how to get started with bullet journaling and monthly spreads that you can take inspiration for. If you want to go green, you can also do it on your desktop or tablet. Some affordable apps I use are GoodNotes5, Procreate, as well as various Adobe applications. Alternatively, you can try these free applications: ibisPaint X and Metamoji Note Lite.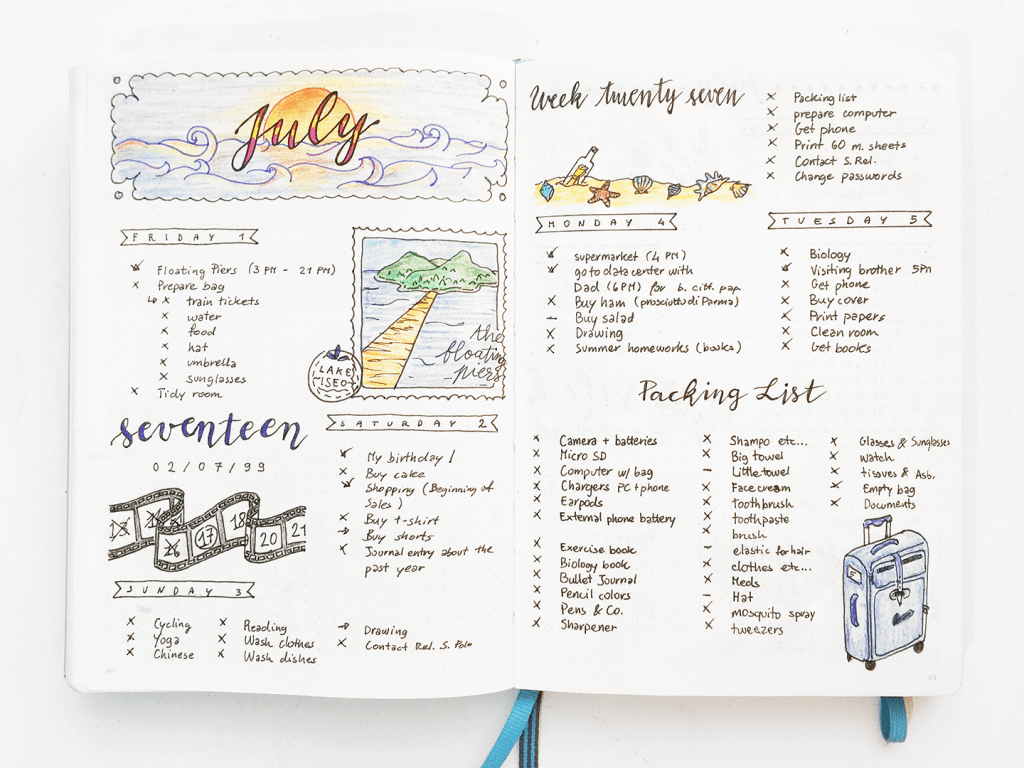 Dig up your old colour pencils for this one. Remember when there was a phase of adult colouring books? It started gaining popularity in 2015, and I once thought of it as something ridiculous. However, it is actually one of the easiest ways to focus on your mental health through the arts. The complicated images soothe and calm the older demographic . While there are many colouring books out there for you to purchase, you can simply print them off the internet. Super cost-efficient.
If you prefer a digital platform, there are apps in the app store, which allows you to paint by numbers. The best part about these apps is the time-lapse replays of your colouring. So satisfying. Simply search "Paint by numbers", and there should be many options for you to choose from..
Collage is combining seemingly different elements to create a new piece of art. Two everyday college activities are Visual Collaging and Word Collaging. Visual collaging uses images and words from magazines, newspapers, flyers, the internet, etc., to create something that satisfies you (Teo, 2019). On the other hand, word collaging uses explicitly words that you resonate with to create a paragraph, story, poem, etc. (Teo, 2019). The important thing is to go with the flow. This could also be a page in your bullet journal. Dedicate a page to make you feel more positive of yourself through phrases and images. If there is something you are passionate about, you can create spreadsheets for them. If you watched a movie that you love, use phrases from the movie, the scenes, the colour palette, etc. to piece together a collage you are satisfied with. Have your handy glue, scissors, images/quotes in hand and you are ready to go.  
Is there something you relate to strongly? It could be song lyrics, movies, books, location, etc. Focus on one and use it as the inspiration to create art. The aim of this activity is to visualise your emotions (Borges, 2020). Respond to your choice of inspiration in any way that you want. You can paint a song, scribble with multiple mediums, or write a poem for an image.
Anything that feels right to you. It serves as an outlet for you to express your emotions that bottle up inside of us. Nobody has to understand and it does not have to be anything extravagant. It is for you and nobody else. So respond naturally and your art will be one you love.
An example is the artist, Melissa McCracken. Songs are translated into vibrant colours in her head and she presents it on canvas for the world to see.

Last but not least are the various types of handicraft hobbies. This may be the most costly and time-consuming option. However, the process can be split up across long periods, and it is readily incorporated into your daily routines. "By slowly working through a craft, it allows us to slow down and think about what matters to us," Farber suggested. There are a variety of options you can choose from sewing to knitting and crocheting. The important thing is to not rush through the process, something I am guilty of. Most often than not, I give up because of the pressure to complete it as soon as possible. Thus, slow down and just be in tune with yourself and try not to focus on your progress. It is something to help you relax not to work you up. Afterwards, you can give your handmade crafts to your loved ones.
These are just some simple art activities to boost your mental health. However, there are many more and if none of these fits you, there are many other options you can choose from. Just be involved in the creative process and have fun. Do not worry about the outcome and enjoy the process. This is a time for you to improve yourself and take care of yourself. You do not need to be artistic, just let it go and have fun. What are you waiting for?