Street Artists

Street Artists
of Singapore
Street Artists of Singapore
Have you ever taken or looked at photos along the streets of Singapore of those beautiful wall murals, graffiti and sketches? Ever wondered who are the ones behind those masterpieces? Well, in this article, we would be introducing you to some of them!
1. Urban Sketchers Singapore
Urban Sketchers initially started out as a Flickr group and later became a non-profit organisation. Most of the members of the Urban Sketchers Singapore are not artists by profession, however they all share the mission of advocating the practice and the artistic value of on-location drawing, as well as sharing their passion for doing so.
Check out some of their amazing sketches below:
Mr Yip Yew Chong is a local artist who practises various visual mediums like murals, canvas, sketches, installations, digital drawing, photography and video-making. Mr Yip's beautiful public murals are easily found and visible along the streets of Singapore. He was a part time artist back in 2015 while being part of the accounting profession. In mid-2018, he left the job and started spending more time creating art.
His artworks all seem to be telling stories – most of which are his childhood memories of a bygone era and lost place. Sometimes, these artworks might also be mixed with present-day real scenes whimsically. He hopes to evoke a sense of warmth in their hearts and fond personal nostalgia, leading to the inspiration of wanting to tell their own stories with his artworks..
If you take a look at his murals, you can have some fun with it as well by being part of the artwork, such as pretending to have satay, as demonstrated by Yip Yew Chong in the image above.
To find the locations of his murals all over Singapore, click the button below!
For future updates on his works, check out his Instagram here!
RSCLS (pronounced as RASCALS) is a community of muralists, graffiti artists, and illustrators who enjoy creating art in Singapore's streets. They are currently based in Aliwal Arts Centre in Kampong Glam. As of current, this organisation of artists has murals and graffiti pieces on the walls of the Kampong Glam district and here are some of their amazing works: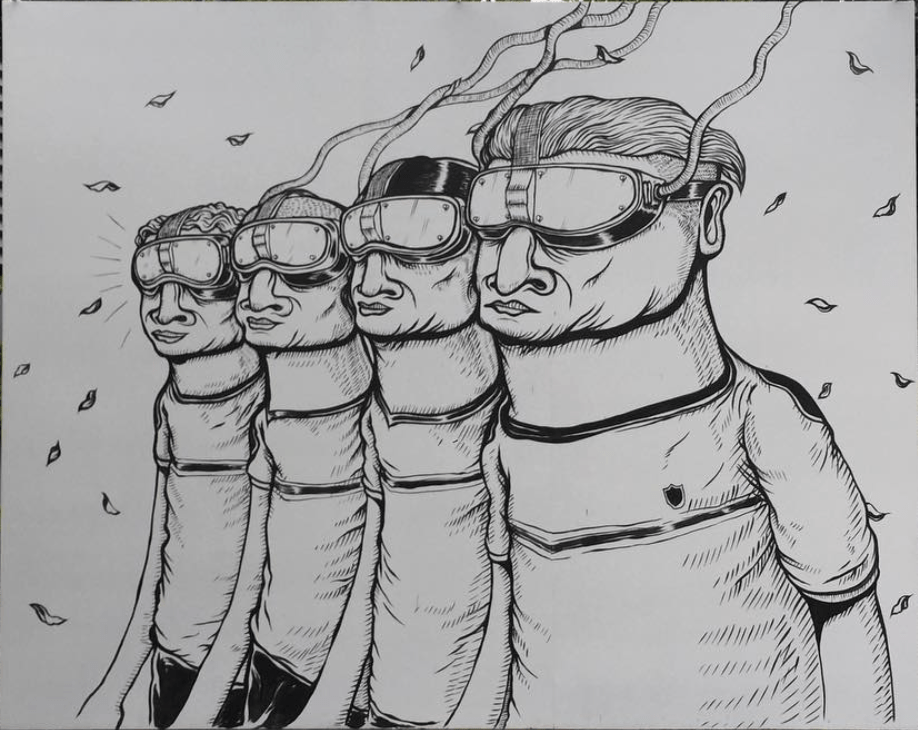 RSCLS is currently working together with the National Arts Council to create commissioned and legal street art in Singapore for various arts festivals such as the Singapore Heritage Festival and SHINE Festival. These artworks depict the cultural roots of the various races in Singapore and its history.
For more updates on their future works, check out @RSCLS on Instagram!
Sam Lo is a self-taught local artist, and their work revolves around the commentary of social issues driven by daily observations of the surroundings and research on the sociopolitical climate.
Image credit: Sam Lo's Portfolio
Image credit: Sam Lo's Portfolio
Lo did not like how local acts were also considered to be second after the foreign ones, and questioned what was the true meaning of being a Singaporean and probing into our culture and identity. After asking the people around, Lo got the inspiration of creating stickers that Singaporeans would resonate with. Lo was then given the nickname of 'Sticker Lady'.
Ever since those days, Lo's works have since been focused on the understanding of the world, and how actions of people are dependent on each other. Lo is now one of Singapore's most recognisable street artists – even once having designed Nike's largest store in Southeast Asia and India.